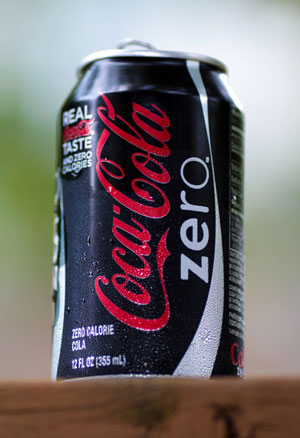 Asupan kalori yang berlebih bisa menyebabkan berat badan bertambah. Itulah teori yang dipakai produsen minuman bersoda rendah kalori untuk menjual produknya. Tapi tahukah Anda bahwa minuman soda berlabel 'nol kalori' pun sebenarnya berbahaya?

Dengan memanfaatkan kesadaran masyarakat yang mulai memikirkan asupan kalori, produsen minuman soda pun berlomba-lomba membuat produk yang rendah kalori bahkan tidak berkalori. Itulah sebabnya, di luar sana minuman soda nol kalori sangat populer dan banyak dikonsumsi.

Sebagai perbandingan saja, 1 kaleng minuman soda biasa mengandung 143 kalori, sedangkan 1 kaleng minuman soda nol kalori hanya mengandung 1 kalori. Kedengarannya seperti menyehatkan bukan?

Tapi jika Anda cermat dan teliti melihat komposisinya di kemasan produk, terdapat perbedaan yang besar antara minuman soda biasa dan nol kalori. Minuman soda nol kalori mengandung aspartam atau pemanis buatan, sementara minuman soda bisa menggunakan gula asli.

Aspartam memiliki rasa manis 180 hingga 200 kali lebih tinggi daripada gula biasa. Dalam regulasi yang dibuat oleh Food and Drug Administration (FDA), aspartam diperbolehkan penggunaannya untuk jenis minuman penurun berat badan.

Namun ternyata beberapa studi menunjukkan efek samping yang berbahaya dari aspartam, meliputi pusing-pusing, sakit kepala, perubahan mood dan reaksi pada kulit, bahkan kalori rendah pun masih bisa meningkatkan berat badan.

Dikutip dari That's Fit, Selasa (1/9/2009), sebuah studi menyebutkan bahwa ketika seseorang mengonsumsi sesuatu yang rendah kalori, dalam otaknya akan tertanam asumsi tidak apa-apa mengonsumsinya terus-terusan karena kalorinya kecil.

Dengan demikian, nafsu makan pun akan terstimulasi dan Anda akan makan lebih banyak lagi. Mengonsumsi minuman manis juga membuat seseorang ketagihan dan ingin mengonsumsi lagi dan lagi.

Sebetulnya tidak ada soda yang sehat, meskipun itu nol kalori sekalipun. Sedikit sekali nutrisi yang terkandung di dalamnya, jadi tidak ada untungnya mengonsumsinya. Ada baiknya Anda memilih air putih, jus, teh atau minuman lain yang lebih sehat ketimbang minuman bersoda.

Baca Juga Artikel menarik di bawah ini :

0 comments to "Bahayakah Minuman Soda Zero Kalori"
Category
1 kolom
(1)
2 Kolom
(1)
All About 3
(1)
Android
(1)
Avail
(1)
Blog Award
(2)
Blog Tips
(46)
Chord Lyric
(5)
Club Motor
(3)
Crack. AntiVirus
(1)
Ebook
(3)
Event
(8)
Facebooker
(1)
File Sharing
(2)
Free Template
(4)
Gallery
(3)
Game
(3)
Grafik
(1)
Harga Hp
(2)
Humor
(3)
Info Komputer
(7)
Info Lowongan
(29)
Info Phonsel
(3)
info produk
(4)
Info Sehat
(2)
Kediri
(27)
Kesehatan
(4)
Kuliner
(9)
Lowongan Kediri
(13)
Objek Wisata
(11)
Operator
(1)
Pandeglang
(1)
Pondok Pesantren
(1)
Portable
(3)
Produk Sponsor
(12)
Profil Cah Kediri
(1)
Racing
(1)
Sejarah
(5)
Sekilas Info
(63)
Seputar Wanita
(2)
susu instan
(1)
Tips
(13)
Twitter
(1)
Uang
(5)
Web
(4)