Komunikasi instan vi internet atau lebih kita kenal dengan istilah chatting kini kian digandrungi, trend ini semakin marak dengan hadirnya HP yang mempunyai keypad QWERTY (itu lho hp yang keypadnya seoerti keyboard pada komputer), Nach jika anda berminat menjadi chatter sejati selayaknya anda coba beberapa aplikasi phonsel berikut ini. Lebih murah pakai aplikasi daripada beli blackberry... apalagi aplikasi berikut ini semuanya gratis...


8 Aplikasi chatting Phonsel Gratis
1. YehBa
Digunakan di lebih dari 150 negara, TERJANGKAU YehBA * Mobile Instant Messenger adalah alat komunikasi, untuk berhubungan dengan keluarga dan luar negeri, di mana pun di dunia. Dengan penekanan pada MOBILITAS 'dan PRODUKTIVITAS, YehBA * IM sesuai gaya hidup Anda, menciptakan makna baru dan adanya konektivitas.
Fasilitas.
• Telepon-ke-PC atau komunikasi telepon seluler
• interoperabilitas dengan platform IM lain publik
• Berbagi Foto
• Mobile Blogging
• Mobile Presence
• Menyiapkan kertas atau portofolio Reguler YehBA *
• mengirim SMS melalui YehBA * Teks sebagai SMS Gateway
• Mendukung Message Center, Handphone hotspot, Iconized Jasa
Download Yehba Handphone Instan Messenger di
sini
, hanya untuk Nokia, Sony Ericsson dan Motorola dengan dukungan java.
Ukuran file: 127 KB
Jenis file:. jar
2.MXIT
MXit merupakan aplikasi chatting free via HP yang mampu diakses kapan saja. Untuk mendapatkan program MXit mudah saja. Silakan buka situs: http://www.mxit.co.za/wap atau wap.mxit.co.za
wap.mxit.co.za
lewat browser di HP kamu. Atau ke alamat http://www.mxit.co.za/ melalui jaringan internet. Selanjutnya, ikuti langkah-langkah untuk men-download program tersebut. Gratis! Tentu saja HP yang kamu gunakan harus memiliki GPRS dan biaya yang dikenakan adalah biaya GPRS (untuk IM3 saya sudah coba dan hanya habis tidak sampai Rp.300,- pulsa reguler).
Pilih direktori dimana program MXit akan disimpan. Setelah berhasil di-download. Tekan options à register, lalu ikuti langkah-langkah registrasinya. Setelah registrasi berhasil, kamu sudah bisa menggunakan program MXit. Untuk menambah kontak, tekan menu à contacts à add contacts. Chatting hanya bisa dilakukan sesama HP yang ada program MXit, jadi pastikan kamu mengajak teman-teman kamu untuk bergabung. Setelah kamu berhasil menambah kontak, chatting dapat dilakukan dengan mengarahkan pada nama partner chatting kamu (akan muncul setelah prosedur add contacts selesai), lalu tekan chat à write, tulis kalimat kamu. Setelah itu tekan send. Selamat mencoba!
3.ShMessanger
shMessanger hanya mensupport Yahoo!Messenger. shMesenger mempunyai banyak versi, mulai dari keypad numeric, full keyboard, sagem keyboard, Motorola dan juga Windows. shMessanger mempunyai beberapa fasilitas, diantaranya emoticon, photo avatar display dan lainyya. Kamu bisa mendownload lewat ponsel di http://shmessenger.ro/wap atau lewat PC di http://www.shmessenger.ro/en_US
4. eBuddyy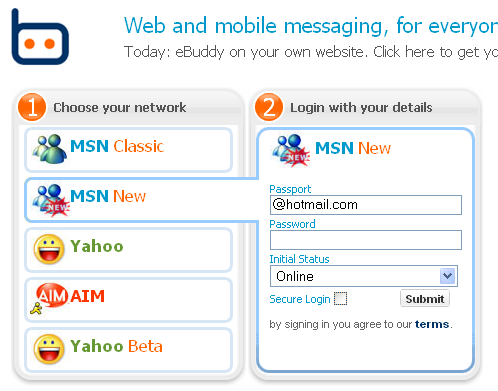 Sebuah aplikasi Chatting yang simpel namun dengan kombinasi warna yang keren. Mempunyai background yang atraktif dengan ico2 yang full color.

ebuddy

terbaru bisa menggunakan kamera menjadi avatar display, fitur yang sangat keren tentunya. Jadi kamu bisa Chatting dengan teman kamu dengan poto kamu sendiri atau poto orang lain. Aplikasi ini kompatibel dengan berbagai

IM

service, diantaranya

MSN

,

Yahoo!

,

AIM

,

ICQ

,

Google Talk

dan

Facebook

. Aplikasi ini menggunakan platform java (J2ME) dimana hampir semua ponsel sudah kompatibel
.


Features:
• Rich interface
• Fast response
• Minimal data usage
• Easy to use
• Sound & Vibration
• Group-chat
• Runs in your browser
• Basic chat functionalities
• Fast response
• No download required
• Easy to use
• Also works on older phones
Kalau kamu mao mencoba
eBuddy
ini kamu bisa download langsung lewat ponsel kamu di alamat
http://m.ebuddy.com
atau
http://get.buddy.com
atau bisa juga ke
http://wap.getjar.com
pilih quick download dan masukan kode
17291
. Kalau mau download lewat PC kamu bisa ke
http://www.ebuddy.com/mobilebeta
5. Mig33 (Free/Gratis)


Aplikasi chatting yang berasal dari Australia ini sangat populer sebagai aplikasi mobile chatting. Fasilitasnya tidak berbeda jauh dengan aplikasi chatting yang lain, disamping kemudahannya dalam mobile chat, aplikasi ini juga bisa digunakan untuk sharing photo dikamera menggunakan layanan email dan telepon internet. Mig33 mensuport
MSN
,
Yahoo!
,
Google Talk
dan
AIM
. Mig33 dapat kamu download via ponsel di
http://wap.mig33.com
atau lewat PC di
http://www.mig33.com


6. Morange V
Morange V
, sebuah aplikasi mobile chatting dengan kemampuan menampilkan conference yang keren. Mempunyai fitur social networking, mobile photo sharing, mobile sayings dan global wheather. Jadi kamu bisa terkoneksi dengan FaceBook dengan Morange V ini. Fitur lain, push email, web surfing, java aplikasi (J2ME). Kamu bisa mendownload Morange V lewat ponsel di
http://wap.getjar.com
dengan code quick download
30381
. Atau lewat PC di
http://morange.com


7. Nimbuzz
Nimbuzz
mempunyai sedikit perbedaan dengan eBuddy. Nimbuzz mempunyai beberapa fitur yang bisa dibilang lebih canggih. Disamping kemampuan mengirim pesan teks singkat, layanannya juga bisa digunakan untuk melakukan panggilan internasional dengan orang lain yang juga menggunakan Nimbuzz. Untuk Chatting Nimbuzz mempunyai fasilitas yang disebut dengan fasilitas
"buzz"
, ini sama dengan Yahoo mesenger di PC dengan kemampuan pengiriman photo, file dan juga suara. Kamu bisa download Nimbuzz melalui ponsel di
http://nimbuzz.com/en/mobile
atau dengan quick download di
http://wap.getjar.com
dengan kode
26137
. Atau lewat PC di
http://nimbuzz.com
8. EQO
Disamping menyediakan layanan mobile chatting, EQO juga bisa digunakan sebagai fungsi telepon via VoIP. EQO mensuport IM favorit seperti
MSN
,
AIM
,
Yahoo!
,
Google Talk
,
ICQ
,
Jabber
,
QQ
. Kelebihan lainnya dari EQO yaitu bisa digunakan untuk chatting bersamaan sekaligus, bisa juga menampilkan nomor kontak teman yang sedang online dengan kita. Kamu bisa download via ponsel di
http://wap.getjar.com
dengan kode
32315
atau lewat PC di
http://www.eqo.com
Ok deh segitu aja, semoga bermanfaat. Dan kamu bisa sharing pengalaman kamu memakai aplikasi mobile messenger dengan teman2 semua dibagian
comment
....
Selamat ber-ceting ria
Baca Juga Artikel menarik di bawah ini :

0 comments to "8 Aplikasi chatting Phonsel Gratis"
Category
1 kolom
(1)
2 Kolom
(1)
All About 3
(1)
Android
(1)
Avail
(1)
Blog Award
(2)
Blog Tips
(46)
Chord Lyric
(5)
Club Motor
(3)
Crack. AntiVirus
(1)
Ebook
(3)
Event
(8)
Facebooker
(1)
File Sharing
(2)
Free Template
(4)
Gallery
(3)
Game
(3)
Grafik
(1)
Harga Hp
(2)
Humor
(3)
Info Komputer
(7)
Info Lowongan
(29)
Info Phonsel
(3)
info produk
(4)
Info Sehat
(2)
Kediri
(27)
Kesehatan
(4)
Kuliner
(9)
Lowongan Kediri
(13)
Objek Wisata
(11)
Operator
(1)
Pandeglang
(1)
Pondok Pesantren
(1)
Portable
(3)
Produk Sponsor
(12)
Profil Cah Kediri
(1)
Racing
(1)
Sejarah
(5)
Sekilas Info
(63)
Seputar Wanita
(2)
susu instan
(1)
Tips
(13)
Twitter
(1)
Uang
(5)
Web
(4)